Surf spots in the north of Fuerteventura
Fuerteventura ist eine der bekanntesten und beliebtesten Surfdestinationen Europas. Mit seinen endlosen Stränden und seiner unglaublichen Vielfalt an Reefbreaks ist es ein Paradies für Anfänger und Fortgeschrittene Surfer!

Wir haben eine Auswahl von Surfspots im Norden Fuerteventuras gesammelt, die für Aufsteiger und Intermediates geeignet sind und die wichtigsten Infos, die für euch zum Wellenreiten relevant sind, hier zusammengefasst. 
Content
Surfing in the north of Fuerteventura:
Overview of the north of Fuerteventura and its surf spots Advantages of surfing in the north of Fuerteventura
Surf spots in detail:
List of friendly surf spots in the north of Fuerteventura Descriptions of each spot, including wave type, difficulty level, and best times to surf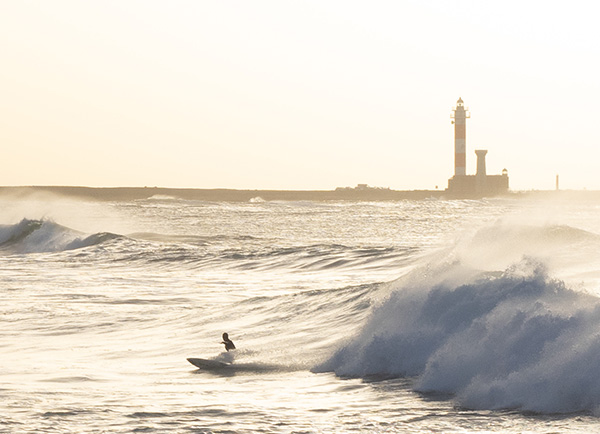 How is surfing in Fuerteventura?
Fuerteventura is known for high-quality waves, beginner-friendly beaches, and especially the relatively warm water all year round.
The waves in Fuerteventura are very consistent – which we can probably attribute to the fact that as an island, Fuerteventura has not only a coastline but also a coastal oval. The island therefore receives waves from all four directions, so there is almost no day when you cannot find something surfable somewhere.
Due to the selection of different swell directions, it is also not a problem if a winter storm creates waves that are too big for you personally: On the opposite coast, the waves come in very small!
So depending on which waves you prefer or what your level is, you can either dive right into the big waves or look for something more manageable.
One of the other decisive advantages that makes surfing in the Canaries so special is the lava seabed!
The volcanic eruptions that formed the Canary Islands have created perfectly running lava reefs on Fuerteventura. When the sea hits these reefs, beautiful left and right-handers, A-frames, and point breaks break – one after the other along the entire coast! The number of reef breaks and variety of wave shapes will guarantee all your surfing desires are fulfilled.
Additionally, Fuerteventura has the longest sand beaches of all the Canary Islands. The sandy seabed is both beginner-friendly and creates fast waves and steep shore breaks for shortboarders!
So, as you can see, Fuerteventura is the perfect place to surf and have an unforgettable surf vacation.
Where is the best place to go surfing in Fuerteventura? We've created a small surf guide for you on the most important surf spots on the north island from west to east.
In this list, we introduce you to the most friendly surf spots. To help you better understand them, we've also created a small overview for each spot: What kind of wave is it? What level is it suitable for? And when does it actually run? This way, you can more easily decide which spot is right for you.
P.S. On site, you can also come to our surf shop and get a surfer map – all the spots are marked on it!
Surf spot facts
Ground, Left or Right Breaking, Point Break, Channel, and more: The most important information summarized.
Level
For whom is the surf spot suitable?
Forecast
What are the current conditions at the surf spot?
Piedra Playa // El Cotillo
Surf spot facts
Piedra Playa on the west coast is the beach between El Cotillo and El Roque. The beach break consists of 4 bays with sandy bottom and numerous peaks. Here and there you will find a few isolated rocks – but you can definitely see them well at low and mid tide. The spot works best with swell from W/NW and easterly winds.
Level
The beach is great for both beginners and advanced surfers. For beginners, there are white water waves at every swell size where you can practice take-offs and basic maneuvers. For advanced surfers, it highly depends on the swell size, direction, and wind: Piedra Playa can produce waves from waist-high to clean barrels, but it can also be quite gnarly.
Surf Forecast for El Cotillo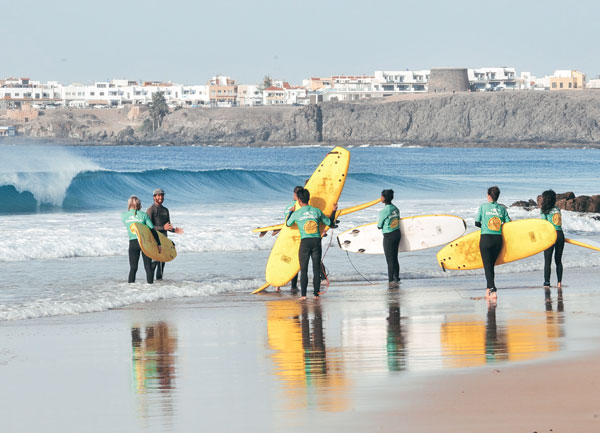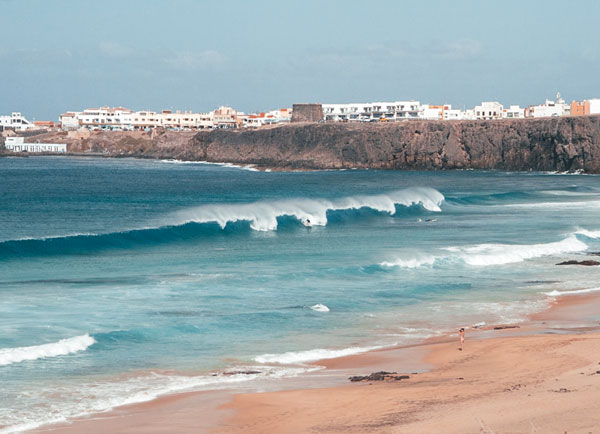 Punta Blanca // North Shore
Surf spot facts
If you already have surfing experience and feel comfortable on your board, then you shouldn't miss out on Punta Blanca. The well-known advanced level reef break on the northwest coast of Fuerteventura offers both a right and left wave with fast and long rides. The conditions for Punta Blanca are ideal during high tide and northeast wind.
Level
In the inside, you will find broken waves with a lot of power after about 50 meters of paddling, as well as smaller green waves that are perfect for beginners, intermediates, and longboarders. Thanks to the channel (a zone where no waves break), you can take a break in between. If you're looking for more of a challenge, you should venture out to the outside where the wave has much more power. But be careful: the current can be strong in windy conditions, so always be aware of where you are.
Surf Forecast for the Northshore

View detailed surf forecast for Hierro. Visit surf-forecast.com for more details, long range forecasts, surf reports, swell and weather maps.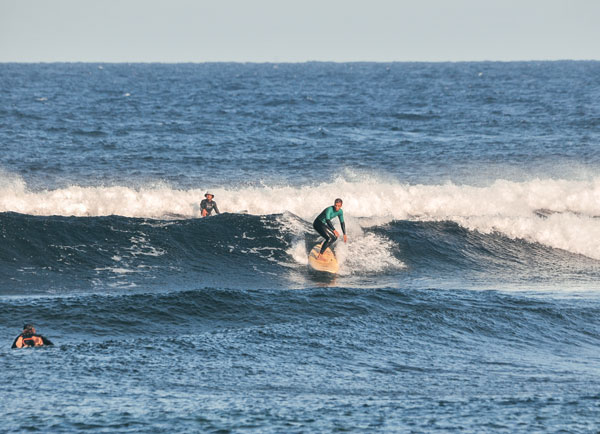 Explore the surfspots with our surf coaches.
Surf spot facts
Majanicho Inside is an idyllic fishing village and a reef break located in the north of Fuerteventura. It is especially popular among longboarders, as the right-hand wave breaks very mellow. Since Majanicho Inside is a sheltered bay, the wave runs mainly when larger swells from the north reach the island (>1.5m). As the wave breaks flat on a reef, the optimal time to surf is around high tide. Please note: if you're going there for the first time, take a moment to observe where the entry and exit points are. The Inside is also usually crowded, so respectful and attentive behavior in the line-up is necessary.
Level
This wave is perfect for longboarders and intermediates who want to have fun in a forgiving wave. But be careful: during big swells (>2.4m), there is a strong current and a fast wave that breaks all the way to the exit. Then, the shortboarders on the island have their fun. The wave curves, so you should already have a few turns down to avoid landing on the reef.
Surf Forecast for Majanicho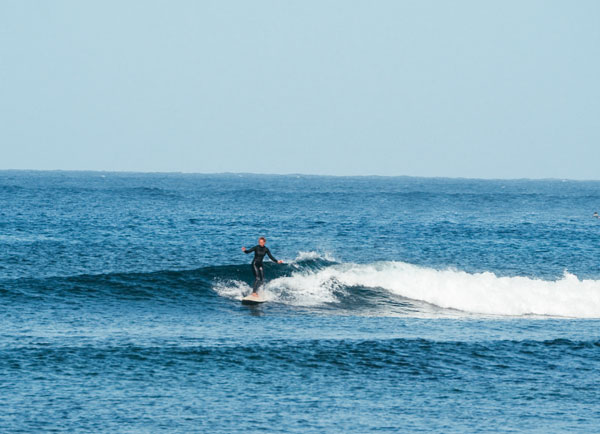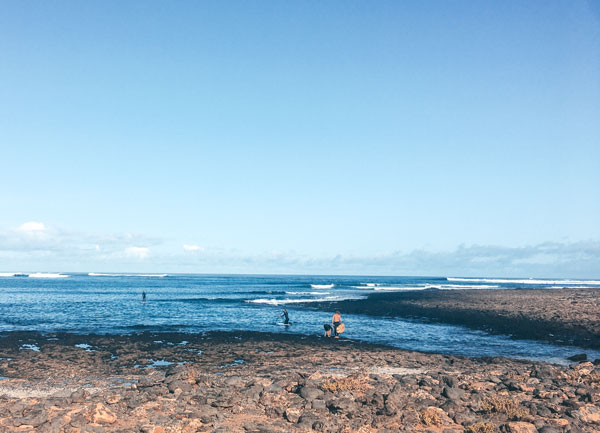 Surf spot facts
One of the most beautiful beaches in the northeast of the island is Glass Beach, located in the sand dunes south of Corralejo. In summer, you can almost always find a wave here, but in winter, waves only come when it's too big in the north. The white beach is very idyllic and offers a great atmosphere for a relaxing day.
Level
The beachbreak consists of sandy bottom and offers waves that are particularly suitable for beginners and intermediate surfers, as rarely big waves arrive here. But advanced surfers can also have fun here, as there is a reef plateau at the right end that creates a beautiful pointbreak.
Surf Forecast for Glass Beach

View detailed surf forecast for Glass Beach. Visit surf-forecast.com for more details, long range forecasts, surf reports, swell and weather maps.