Surfboard
Rental in
El Cotillo
Your surf equipment on site
At our surf shop, you will find a large selection of surfboards for every wave and every style, including shortboards, mini-mals, funboards, and longboards.
We also have O'Neill wetsuits in different sizes, which can be rented individually or as part of a package with the board.
For those who want to try other (water) sports, we offer SUPs, bodyboards, and surf skates.
Come by and find the perfect board for your surfing adventure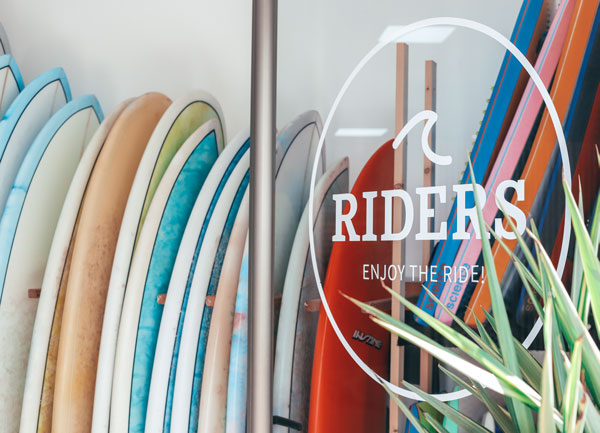 Rent a board for any period of time, from one day to several weeks. For long-term rentals, we offer discounted prices.
Choose from more than 90 different boards the one that suits you. We have softboards, shortboards, funboards, and longboards – for every condition and every level.
In our board rental, you will find both local shapers from the island, as well as well-known manufacturers such as JS, Simon Anderson, Aloha, McCoy, Lost, Slash, and others.
You want to buy your own surfboard but want to try it out first to see if it's the right one for you? No problem! Many of the surfboards that you can buy from us can be tested beforehand in the rental.
We will advise you comprehensively
Our experienced team in the shop will gladly advise you on selecting the right board, tailored to your skill level and the conditions at the spot.
We'll also give you valuable tips on which board is best suited for the conditions and spot you've chosen and help you with the installation of the leash and fins.
If you find that you need a different board during your surf session, we're happy to exchange it for another one. We want to make sure you have the best possible surfing experience.
We warmly invite you to visit us in the shop and explore our extensive selection of surfboards and equipment.
| | | | | | | | |
| --- | --- | --- | --- | --- | --- | --- | --- |
| Board | 1 Day  | 2 Days | 3 Days | 4 Days | 5 Days | 6 Days | 7 Days |
| Softboard | 15 € | 30 € | 43 € | 54 € | 64 € | 73 € | 81 € |
| Epoxy | 15 € | 30 € | 43 € | 54 € | 64 € | 73 € | 81 € |
| Fibra | 20 € | 40 € | 57 € | 72 € | 86 € | 98 € | 108 € |
| Deluxe | 30 € | 60 € | 86 € | 108 € | 129 € | 147 € | 162 € |
| Longboard | 30 € | 60 € | 86 € | 108 € | 129 € | 147 € | 162 € |
| SUP | 30 € | 60 € | 86 € | 108 € | 129 € | 147 € | 162 € |
| Bodyboard | 10 € | 20 € | 29 € | 36 € | 43 € | 49 € | 54 € |
| + Wetsuit | 8 € | 15 € | 21 € | 27 € | 32 € | 37 € | 41 € |
| | | | | | | | |
| --- | --- | --- | --- | --- | --- | --- | --- |
| Accesories | 1 Day  | 2 Days | 3 Days | 4 Days | 5 Days | 6 Days | 7 Days |
| Wetsuit | 10 € | 20 € | 29 € | 36 € | 43 € | 49 € | 54 € |
| Fins | 5 € | 10 € | 14 € | 18 € | 21 € | 24 € | 27 € |
| Booties | 5 € | 10 € | 14 € | 18 € | 21 € | 24 € | 27 € |
| Helmet | 8 € | 15 € | 21 € | 27 € | 32 € | 37 € | 41 € |
| Protectors | 5 € | 10 € | 14 € | 18 € | 21 € | 24 € | 27 € |
| Skateboard | 10 € | 20 € | 29 € | 36 € | 43 € | 49 € | 54 € |