Summer in December
Be part of our Surf Retreat from 09. to 16.12.2023
Your Fuerteventura Surf
Odyssey

awaits
Close your eyes and imagine a paradise where the summer sun lingers even in December. The scent of saltwater drifts on the breeze, mixed with the alluring notes of freedom and adventure. Where, against the backdrop of the turquoise waves of Fuerteventura, you feel the heartbeat of the ocean sync with yours.
Welcome to Summer in December, a surf retreat about finding summer in every moment.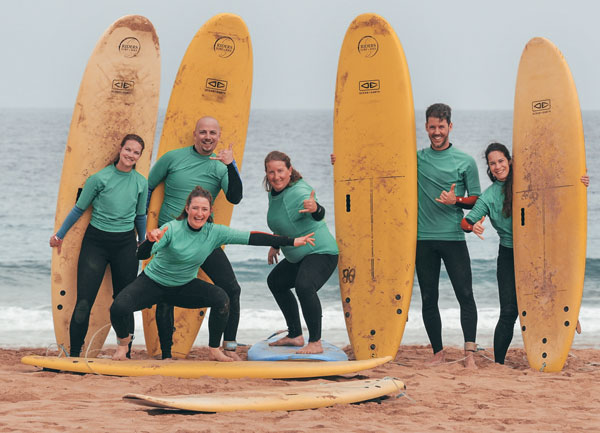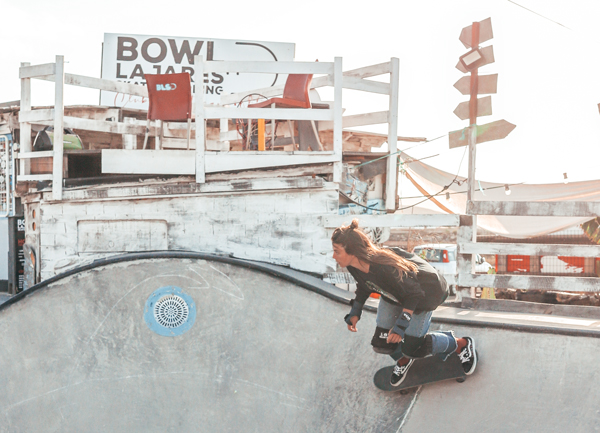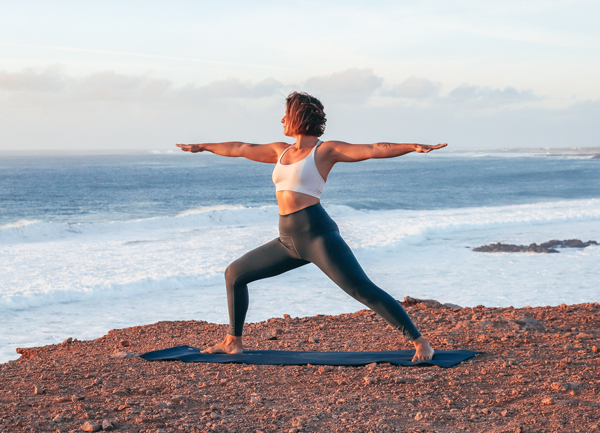 … and more moments filled with joy!
A program bursting with vibrancy
While much of the world dons woolen layers and cozies up beside the fire, we beckon you to swap rain- and snow-touched boots for surfboards, and your usual tranquil couch moments for a interactive week that elevates your body and mind, igniting a serotonin surge.
Surf: Ride the waves with passion, guided by our experienced surf coaches who'll ensure

are  you have a good time

Yoga:

Find your zen or just enjoy a good stretch after surf to realign body and mind

Skate:

Whether you're a newbie or just looking to level up, the seasoned skaters of Bowl Jares will give you all the tricks to make your surfskating a total game-changer

Evening Program & More: As the sun dips below the horizon, enjoy a collection of evening activities. From bonfire tales to dancing to live music in one of the local bars, the fun doesn't stop when the sun sets.
The Accomodation – Villa Koa
Find relaxation and comfort in Villa Koa. Our cozy villa with a pool is located in the charming village of El Roque on the west coast of Fuerteventura – a haven of tranquillity, perfect for unwinding after a day of adventure.
Every day, we treat you to a hearty breakfast and a delicious dinner, vegetarian and vegan-friendly, of course. On special occasions, we also invite you to a Sunset Barbecue and a Spanish Tapas Night!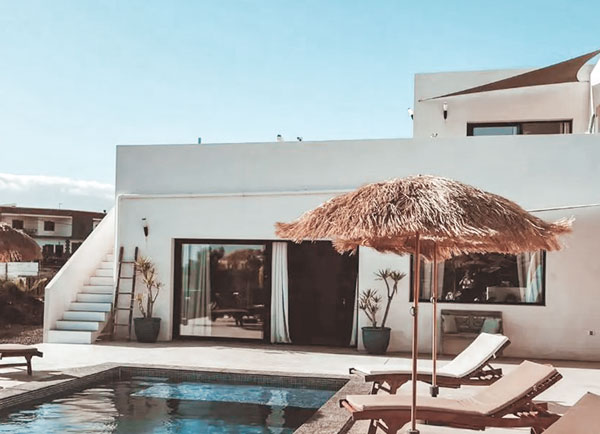 Your week in Fuerteventura:
Dive into a well-crafted week filled with adventure, relaxation, and memorable experiences:
Saturday: Upon arrival, get acquainted with the surroundings on a peaceful Sunset Walk, followed by a welcoming Aperitivo.
Sunday: Start your morning with an energizing Surf Lesson. In the afternoon, find balance and peace during a Yoga Session.
Monday: Explore a new terrain with a Skate Lesson, delve deeper into the world of surfing with a Surf Theory class, and wind down with a Surf Movie Night.
Tuesday: Catch more waves in the Surf Lesson, stretch out with another Yoga Session, and take in the scenic beauty during a Lighthouse Excursion.
Wednesday: The day is yours to enjoy as you wish! In the evening, we gather for a musical Jam Session in Canela Cafe. Feel free to join in or simply listen and dance.
Thursday: Dive back into the water with a Surf Lesson and come evening, relish in a delightful BBQ Night.
Friday: Engage in your final Surf Lesson of the week, and later, reminisce over shared memories during the Goodbye Dinner.
Saturday: As the week concludes, it's time for Departure.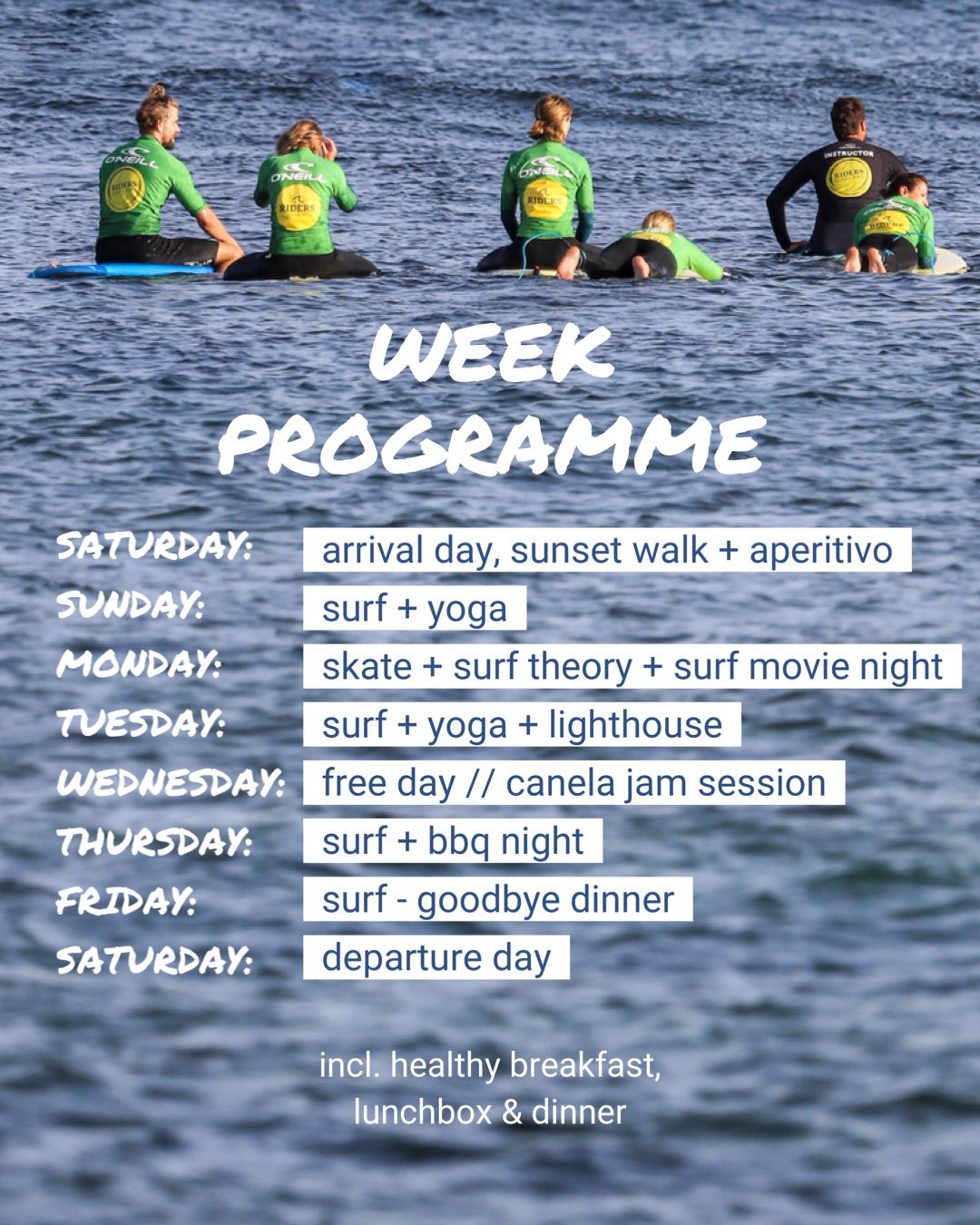 Choose your Accomodation:
6 Nights in a shared double room
Evening program like Surfmovie Night, Jam Session, Barbecue, and Tapas Night
€779
€829
Early Bird until 07.11.2023
6 Nights in a private room
Evening program like Surfmovie Night, Jam Session, Barbecue and Tapas Night
€859
€919
Early Bird until 07.11.2023