a surf school for every level & age
Dive into the waves and experience unforgettable moments while surfing with our professional and certified surf instructors at the breathtaking beaches and surf spots of Fuerteventura.
In our surf school, we offer you the best possible learning experience in various courses for beginners and advanced surfers, families, and private lessons. We carefully plan each lesson based on the best conditions and tailored to the participants' individual needs.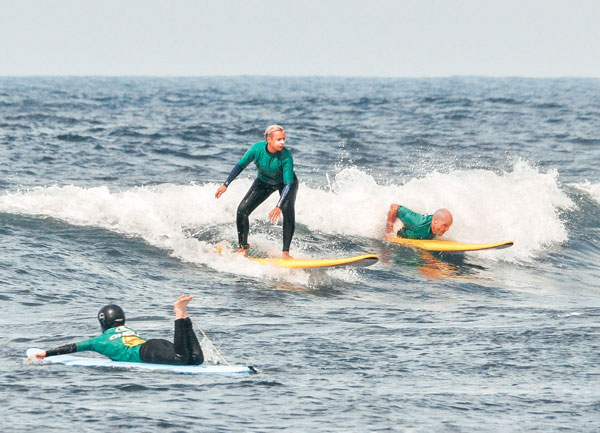 That's what sets our surf courses apart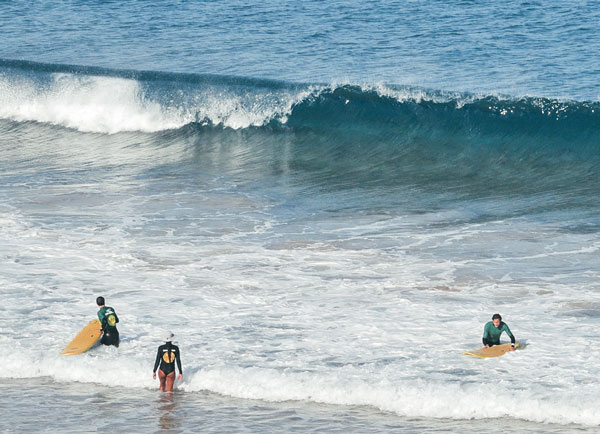 We search and find the ideal wave every day to teach in the best possible conditions. Surf level, tide, and wave size determine where we go. We take you to the best spot!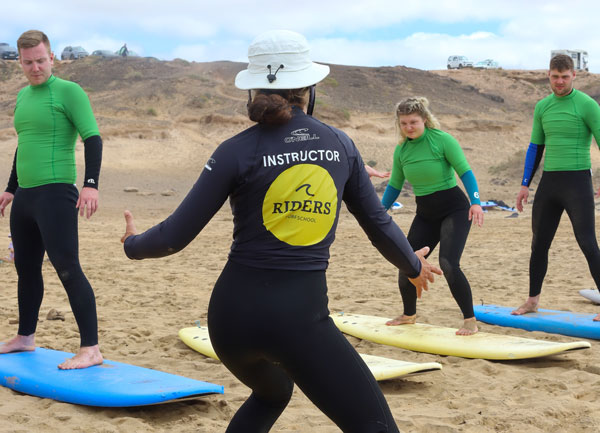 Qualified surf instructors
All of our surf instructors are certified and trained lifeguards, as well as passionate surfers themselves! And the best part is, they really take care of you and ensure that you have a great time in the water.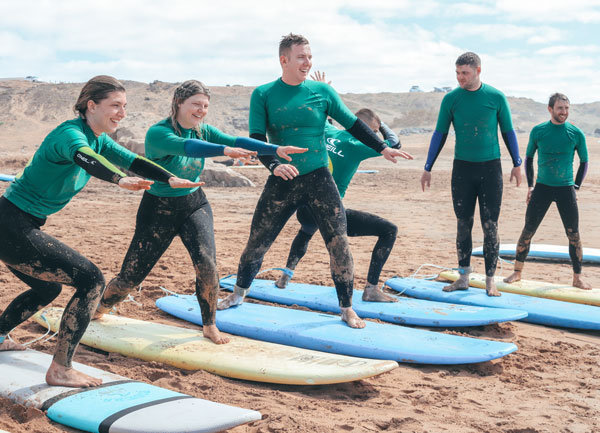 A good preparation provides safety and faster learning success. That's why we never do a surf session without a warm-up and a theory session to cover the necessary knowledge!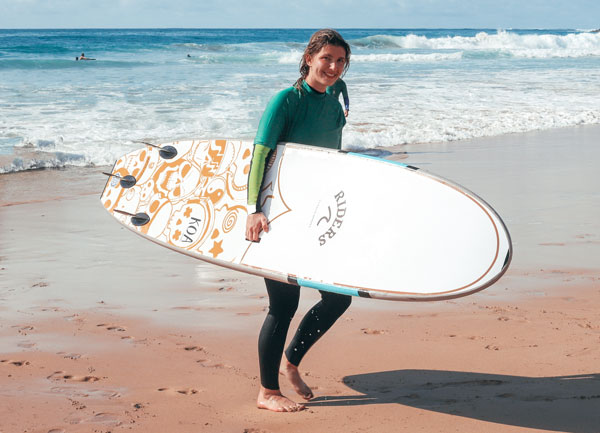 With our selection of beginner softboards to hardboards in different shapes, we will equip you perfectly for the surf course. Our 3/2 wetsuits will keep you warm in the water.
You have never stood on a board before and want to make your first surfing experience?
Your take-off is solid and you can already ride whitewater or green waves?
You can surf well and want to work on specific points?
If you want to learn to surf in Fuerteventura, our surf school is the perfect place for you.
Step by step, or poco a poco as the Spanish say, we teach you how to ride the waves. After a theory session that explains the spot and the waves, we start with warm-up exercises and dry-land training to ensure a safe take-off.
Once you've got that down, it's time to hit the water! At the beach in El Cotillo, you can easily walk out a bit and catch your first broken waves in waist-high water. Our surf instructors are with you the whole time, giving you tips and cheering you on.
The only requirement for this course is that you can swim and have the desire to try surfing. You will learn everything else with us.
Take-off in white water
Riding the wave
Proper paddling
Safe board handling
Surf spot and wave theory
Piedra Playa or Cotillo Beach is a long sandy beach with plenty of waves, where you can make your first attempts at surfing right on our doorstep.
The course lasts about 3-4 hours in total, including warm-up and theory. We teach with a ratio of one surf instructor per six students.
For you as an experienced surfer, it's time to face new challenges and surf green waves in the open sea!
Our experienced surf instructors will accompany you to a spot that offers optimal conditions on that day. Before we start, we warm up on the beach and discuss the local conditions as well as behavior in the line-up. Together we paddle out and find a calm spot in the channel.
When you're ready, your surf instructor will accompany you to the breaking wave and show you how to surf the green wave. He will give you helpful tips and guidance so that you can improve and also surf other waves (steep/mellow, fast/slow, left/right-breaking).
Our intermediate surf course offers you an optimal opportunity to further improve your skills and take you to a new surf level.
You are stable on the board, your white-water take-off is secure, and you can already steer the board slightly to the left and right.
Take-Off in green waves

Backside/Frontside Turns

Surf etiquette

Reading surf spots
Depending on the conditions, we will take you to one of the reef breaks on the north shore of Fuerteventura. Each of the spots has a channel where you can sit safely and observe the waves at first.
The course lasts about 3-4 hours, including transfer to the spots and an explanation of how to orient yourself in the water, where the waves break, and where the channel is.
Surfing requires practice: take-offs, turns, and balance on the board improve the more time you spend in the water. Our surf courses build on each other – that means we start each day with the insights gained from the previous one. If you're not just looking to try it out, we recommend booking minimum 3 surf lessons.
Of course, you can spread your lessons out over your vacation time and take a break in between. Please discuss your plans with us so we can guarantee a spot for you on your desired days.
Surf lesson around 3-4 hours
Surf Theory and a professional Warm-Up
Individual surfboard according to your level and daily conditions
Wetsuit to keep you warm in the water (cleaned and dried after every session)
Sun screen, water and a snack
1 surf lesson:

60 €

2

surf lessons

:

120 €

3 surf lessons:

175 € (Recommended)

4 surf lessons:

 

230 €

5 surf lessons:

280€

6 surf lessons:

330 €
FAQs – Questions about our surf courses
Learn to surf at 30, 40, 50, 60+?
You are never too old to try new things, including surfing. Of course, you should have a certain level of fitness, as surfing promotes cardiovascular health. However, your body can learn the technique and movements at any age. In our surf courses, we take into account the particularities of each participant, related to age, fitness, and learning speed.
Do you offer surf lessons for children?
Our surf courses are always mixed across all age groups – this way, children motivate adults and vice versa. We do not offer specific children's courses, but we always adapt our surf courses to the participants and their learning styles, including for children. For example, children require more attention and are not as strong as adults. Therefore, we are happy to bring an additional surf instructor if we have children in our surf course. We also have special boards and wetsuits for children.
Aus Sicherheitsgründen ist das Mindestalter sieben Jahre. Individuelle Ausnahmen sind nach Absprache möglich.
Is there a minimum and maximum age for your surf lessons?
For safety reasons, the minimum age is seven years old. If your children are younger and you want to learn surfing together, please inquire about our family surf course. We will then look individually at how we can make the surf course possible for you!
There is no maximum age – as long as you feel fit and have the desire to try surfing, we look forward to your participation!
Do I have to be sporty for a surf course?
You don't need any athletic prerequisites except for swimming.
In surfing, especially in the beginning, technique is the most important factor. Whether you regularly exercise or not, we will teach you the various take-off techniques to get you on the board. And that's something you'll learn from us!
In general, of course, having a good basic fitness level and body awareness will likely help you make progress faster.
I have a pre-existing condition. Can I take part in the surf course?
That is dependent on your individual condition as it mainly concerns your safety in the water. Therefore, please inform us beforehand of any pre-existing medical conditions so that we can create a safe experience for you.
Procedure of the surf course
When does the surf course start each day?
We don't have a fixed start time, but decide each day based on the conditions (tide, wave size, wind) when and where we will go with our course. This allows us to provide you with the best conditions so that you can learn faster and better!
We will inform you of the time the day before.
How long is a surf course?
A course lasts about 3-4 hours. This includes transfer to the surf spot, warm-up, theory, and time in the water.
If you need a break in between, you can always sit on the beach or in the car and enjoy the ocean view.
In which language does the surf course take place?
Our surf coaches always speak German or English. However, if you prefer a specific language, please let us know in advance, and we will do our best to accommodate your request.
What should I bring to the surf course?
That's correct! You will need a towel or poncho, swimwear to wear underneath the wetsuit, and sunscreen. We will provide the surfboard and wetsuit for you, and we also bring water and a small snack for you during each surf lesson.
I freeze easily. How warm is it in the water?
In Fuerteventura, the sea temperature ranges from 18 degrees Celsius in winter to 22 degrees Celsius in summer – so it never really gets cold.
In the surf course, you will receive a 3mm thick wetsuit from us, which will keep you warm and protected from the wind.
If you tend to feel cold easily, it makes sense to either bring a thicker wetsuit yourself or wear an additional lycra under the wetsuit. Feel free to talk to us about it – we can recommend something suitable for you to always feel cozy and warm!