Family surf lessons
in El Cotillo
Surfing holiday with the whole family
Learn to surf together as a family and create unforgettable vacation memories – that's possible with us!
As a family-run surf school, we offer a particularly child-friendly environment. Our school is run by a family of surfers, and in our video, you can see owner and surf coach Willy surfing together with our Riders junior, Koa.
So we know how valuable the time spent together in the water and outside is. That's why you can expect an open and friendly atmosphere with us, as well as comprehensive and professional surf experience with our trained surf instructors.
This is what makes our family surf courses so special
Copyright © 2023 // Riders Surf'n Bike
Surf courses for children – also without parents
We understand that it can be difficult to find the time to take a surf course together with your children. That's why we also offer the possibility for children from 7 years old to participate in surf courses alone or with friends – without parents having to be there.
At Riders, your kids can playfully try out surfing to the fullest. Our qualified surf instructors tailor the training specifically to the needs and abilities of the youngest surfers.
While the kids play and ride waves in the water, parents can relax on the beach and cheer them on. Or you can take some time for a break for two.
So even if you can't be there, your kids can learn to surf safely and with a lot of fun – they are in the best hands with us!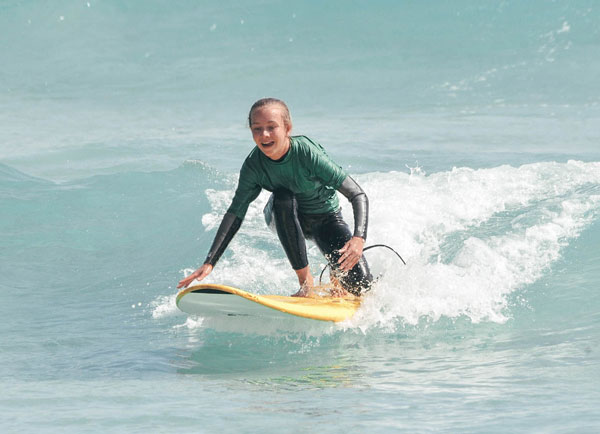 For small & big kids and children at heart
Our group surf lessons take place at safe and beginner-friendly spots where you can enjoy surfing as a family in a relaxed atmosphere. Our qualified surf instructors supervise up to 6 students in mixed groups, ensuring that everyone learns safely and effectively.
At Riders, we understand that both children and adults learn differently. That's why our surf instructors adapt their teaching methods to ensure that each student can get the most out of the course. With the right mix of safety and fun, we make your family surfing experience unforgettable.
In our 3-4 hour surf course, we first explain the basics and then take you directly into the waves. Our surf instructors accompany you the whole time, giving you tips and motivating you to keep going.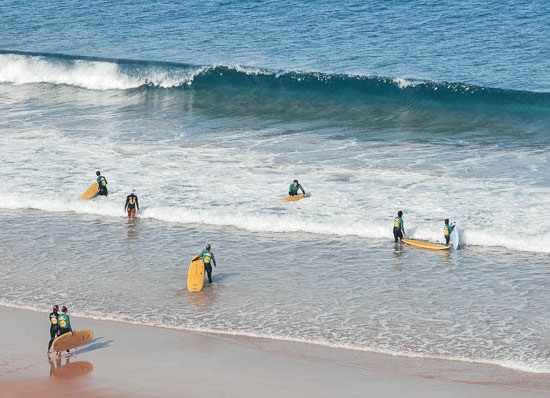 Choose the number of surf lessons.
When it comes to surfing, practice makes perfect. That's why we recommend families who want to learn to surf to book multiple surf courses.
With each day of the course, you'll become better and more confident on the board. And let's be honest: surfing is so much fun that you probably won't get enough of it anyway!
We offer different packages so you can choose the number of surf course days that suits your needs and desires. Whether you want a complete surfing experience or only have one day to try out wave riding, we have options for you.
Equipment (Wetsuit & Board)
1 Surf Lesson:

60 €

2

Surf Lessons

:

120 €

3

Surf Lessons

:

175 €

4 Surf Lessons:

 

230 €

5 Surf Lessons:

280€

6 Surf Lessons:

330 €
FAQs – Questions about our surf courses
Learning to surf as a parent at 30, 40, 50, 60+?
You're never too old to try new things. That also applies to surfing. Of course, you should have a certain level of basic fitness, as surfing promotes cardiovascular health. However, your body can learn the technique and movements at any age. In our surf courses, we take into account the particularities of each participant, such as age, fitness, and learning speed.
Is there a minimum and maximum age for your surf lessons?
For safety reasons, the minimum age is seven years old. If your children are younger and you want to learn to surf together, it's best to ask about our family surf course. We will then look individually at how we can make the surf course possible for you!
There is no maximum age – as long as you feel fit and have the desire to try surfing, we look forward to your participation!
Do I have to be sporty for a surf course?
Apart from swimming, you don't have to fulfil any sporting requirements.
In surfing, it's all about technique, especially in the beginning. It doesn't matter if you do sports regularly or not – with the different take-off variations you will definitely get on the board. And you'll learn them from us!
In general, of course, if you have a good basic level of fitness and body awareness, you will probably make faster progress.
I have a pre-existing condition. Can I take part in the surf course?
That depends on your individual condition, as it is mainly about your safety in the water. Therefore, please let us know about any pre-existing medical conditions in advance so that we can provide you with a safe experience.
Schedule of the surf course
When does the surf course start each day?
We don't have a fixed start time, but decide every day based on conditions (tide, wave size, wind) when and where we go with our course. This allows us to provide you with the best conditions for faster and better learning!
We will inform you of the start time the day before.
How long is a surf course?
A course lasts about 3-4 hours. This includes transportation to the spot, warm-up, theory, and time in the water.
If you need a break in between, you can always relax on the beach or sit in the car and enjoy the view of the sea.
In which language does the surf course take place?
That depends on the specific surf coach. Our surf instructors always speak either German or English.
What should I bring to the surf course?
You will need a towel or poncho, swimwear to wear underneath the wetsuit, and sunscreen.
We provide the surfboard and wetsuit for you. Additionally, we bring water and a small snack for you to refuel during the surf lesson.
I freeze easily. How warm is it in the water?
In Fuerteventura, the sea temperature ranges from 18 degrees in winter to 22 degrees in summer, so it never really gets too cold.
In the surf course, we provide you with a 3mm thick wetsuit that will keep you warm and protect you from the wind.
If you generally feel cold easily, it makes sense to bring a thicker wetsuit or wear an additional lycra under the wetsuit. Feel free to talk to us about it – we can recommend something suitable so you'll always be cozy and warm!